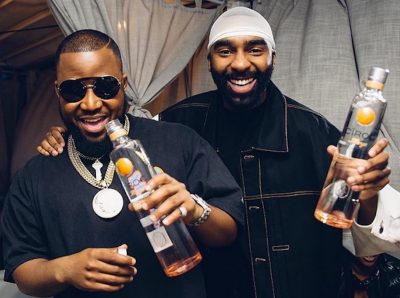 Cassper Nyovest Spills The Beans On Riky Rick's Cotton Fest Show
Cassper Nyovest Spills The Beans On Riky Rick's Cotton Fest Show: Cassper Nyovest got all emotional during Riky Rick's funeral service as he spoke about all the things he wished he had said to the late rap star.
On Tuesday, at Wanderers Stadium in Johannesburg, friends, and family came together to celebrate the rap icon's life. We had some musical tributes and the rest.
Cassper who was a close friend with the late star spoke briefly about him. They weren't in good terms and now that Riky is dead, a lot of fans wonder if they ever made up.
Cassper made it clear that they cleared up their differenced before the rap star passed and he was at peace with the situation of things to say the least.
He further said that he regretted not Riky how much he loved the video where he sang the acapella version of Sondela.
"I loved hearing Riky sing. I loved hearing him sing, more than him rapping. I always encouraged him to sing. Me and him were not on the greatest of terms, even though we were speaking. One of the things I regret was that I wasn't able to tell him how much I loved that video and how much I loved hearing him sing again."
"Riky was one of my idols. Riky was everything I wanted to be. One of the things I never told him — I don't know if it's because of toxic masculinity or what — was the fact that I really said he was such a beautiful man … Riky was so handsome that, even as a guy, you'd have that said that 'Hayi man! The broer is too much!. Not only was his appearance beautiful but he was a beautiful soul".
Cassper Nyovest also revealed that Riky had planned to bring him out a surprise act in Cotton Fest 2022. He further revealed how the late star had called him early this year to bring him out on stage during the Cotton Festival this year.
"Thank you to Bianca for being by his side, I don't think anybody can compare to the love that Bianca gave Riky Rick. I also want to say to the family that we are with you Should you need anything, you should hit up every single one of us that is here because we are indebted to Riky Rick" Cassper said.
"One of the reasons I don't wanna perform today is because Riky actually had plan to bring me out in Cotton Fest as a surprise act, and for this to happen he hit me up all the time and I never wanted to talk to him cos I was still angry Me and Riky spoke so many time cos he always use to force me to talk to him…".