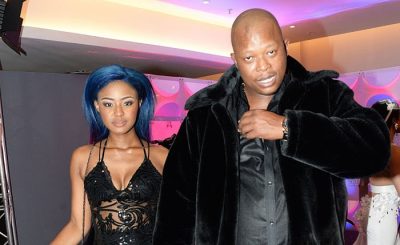 Trouble Looms As Mampintsha's Hidden Wife Drags Babes Wodumo
Mampintsha's Hidden Wife Drags Babes Wodumo: Not every marriage starts well or ends well, such can be said to be the case of Mampintsha and Babes Wodumo's marriage.
The two love birds had their beautiful wedding last year and also welcomed their baby boy. The whole of Mzansi celebrated with them, sending congratulatory wishes and baby gifts.
Considering how their relationship started out and all the rumors of violence, cheating and breaks, they still forged ahead and tied the knot. Now, an unknown woman is out, claiming to be Mampintsha's hidden wife.
The unidentified woman who goes by the name Mamesh has warned Babes Wodumo to stay clear from Mampintsha who she claimed is also married to her.
The lady shared the video on Tik Tok, with the name, Mamesh. According to her, she said she's Mandla's first wife and that Babes Wodumo should also steer clear of their mother in law and stop harassing the old woman.
"Hi Babes Wodumo, you call yourself MaSimelane, well I am MaMaphumulo, the real one. Please leave Makhadzi alone, I am Mampintsha's real wife. Just because you guys are married, that has nothing to do with me. I am also married. I don't know if you know this but he and I are married."
"Secondly, stop going around and dissing Mampintsha's mother, she is my mother-in-law. Just because they are hiding me you think I will remain quiet. I am tried of you, you think because people are scared of you, I will also be afraid of you. I want South Africa to organize a fight between us and on that day do not drink alcohol, eat pap because I will beat you up" she added.
Now, the real fact to this story is that no one knows if this is a publicity stunt or if it's true because Mampintsha is yet to address the issue. He's probably too focused on his business to respond, who knows. We can only hope that he says something to clear the air soon.
See Video Below:
Mamesh is addressing Babes Wodumo.

Mamesh claims to be in a secret relationship with Mampintsha. pic.twitter.com/slZamQHqRk

— Musa Khawula (@khawula_musa) January 20, 2022